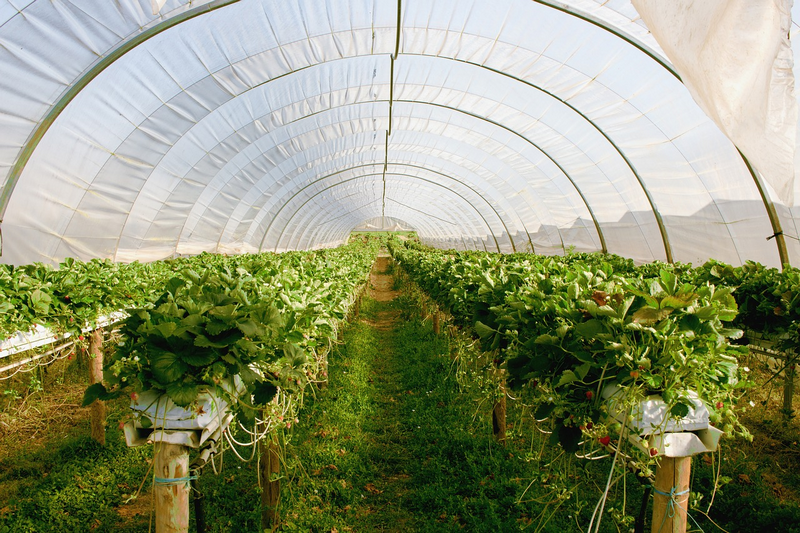 My children know it well, and see the magic in the way that plants can take sunlight, water, and love, and develop beautiful fruit, vegetables, leaves, and strikingly detailed flowers.
This post may contain affiliate links.
To which I earn a small commission, at zero cost to you!
Find more info in our
Privacy Policy
.
This is our Ultimate Guide to Backyard Greenhouses, so you can build the gardening landscape of your dreams. Backyard Gardeners do what they can to work alongside the environment, and sometimes partake in ecological restorations in neighbourhoods and properties across the world.
Backyard Greenhouse gardeners do what they can to work with the environment where they're growing. Sometimes the climate extremes are simply too harsh, there aren't enough shade times, the sun is too bright or the geology is unsuitable for the plants you love.
The garden arsenal has a powerful underutilized system – the backyard greenhouse. Like a garden shovel or a tractor, the greenhouse is more than the sum of its parts, the ultimate growing tool.
With its frame and protective shell, and any other bells and whistles you might add it's a climate-controlled environment that can be manipulated with the precision of a clock, by those armed with the knowledge of how to use it.
Highly skilled backyard greenhouse gardeners can develop their bubble (Mars Grow Structure) and tailor it to create an environment for the plants they want to grow most, be it vegetables during a winter Arctic blaster, fig in a moist well-drained shaded spot or even your collection of tropical plants and foliage.
And these are all environments you can create within one greenhouse size and shape permitting of course. Looking to restore the tree line on your property, start your trees in a greenhouse extending the growing season and knocking years off your wait.
A backyard greenhouse guru is made, not born, and you have to get down the basics. Whether you're a beginner gardener or a greenhouse fanatic looking to expand your knowledge, you've come to the right place.
We are Greenhouse Fanatics we started as gardeners, we have embraced the greenhouse as an extension of our landscape and a way to enhance or backyard non-greenhouse garden activity. We have researched and designed this greenhouse guide—to share the knowledge with you so you can get the most out of your greenhouse, no matter what size or shape.
Let's get into it!
Our Ultimate Guide to Backyard Greenhouses
An in-depth guide to the different shapes and forms of greenhouses, from simple cold frames and windowed greenhouses to A-frames, pop-up greenhouses, gothic arches, hoop houses, even Windowfarms, as well a look at post and rafter backyard greenhouses.  Which style is best for you? Not sure.  Give this section a read and we'll walk you through some basics of each design and cover the pros and cons of each structure.
Since there are so many configuration options we have selected a few of the many options and explain them, depending on what you want to grow. We've made a list of what you're going to need to succeed with all of your greenhouse ventures. Whether you desire a cool-weather Alpine greenhouse, a greenhouse for tropical growing, or a grower greenhouse for plant propagation, we can set you in the right direction.
Highlights the many available materials used in common backyard greenhouse structures. Glass, rigid fibreglass, plastic film, polycarbonate, and double-wall plastics are all excellent materials for greenhouses, however, they aren't interchangeable. Read this to find out what materials are best for your climate and budget.
How can the location and materials of your greenhouse affect the quality of light to your plants? By orienting your backyard greenhouse correctly, you will have the advantage of maximum sunlight availability, minimizing your need for both supplemental lighting and heating. Of course, if you're planning a cool greenhouse, you can be confident in your shady setup, with the info found in this article.
Better understand how backyard greenhouses lose heat and how you can combat those forces. Heating your backyard greenhouse can be an expensive venture we discuss how to pick the one that's best for your greenhouse, no matter what kind of greenhouse structure you've chosen. Will your setup function better with gas or electric heat? Read this section to learn the best option for your building.
The greenhouse ventilation system plays a pivotal role in plant health making it one of the most important factors in greenhouse design. Without a proper ventilation system, all efforts to maintain your greenhouse environment will be useless as you will not be able to effectively deal with heat and excessive moisture. Proper ventilation has a net negative effect on your plants' ability to perform photosynthesis, increases moisture-related diseases, as well leading to poor CO2/oxygen replacement.
Explore the finer points of your backyard greenhouse climate. Climate plays a major role in how well your plants will thrive year-round in your greenhouse. How do you properly regulate these things in the environment? Check out this page where we discuss how careful monitoring can grow successful crops.
When buying a greenhouse, the first thing a gardener needs to consider, among other things, is whether it will be freestanding or attached to another structure. We look at the pros and cons of both types to help guide your decision, no matter where you live. Will, you choose a close by attached greenhouses or something farther away from your home? Get the info you need.
We discuss exactly what you're going to need to start growing the moment your new backyard greenhouse is ready. What materials and tools will you need to get started? Items, like insulation and shelves, will increase your success with many types of greenhouses, though aren't always necessary for all. Have a look at this list before you start your greenhouse shopping.
For further reading read Greenhouse Fanatics: Backyard Greenhouse Basics
Books
If you require further inspiration these two books are an excellent read and hold a wealth of knowledge.
I hope you find what you are looking for in this guide. And if you have anything to add let me know.
The posts and pages of Greenhouse Fanatics
do contain affiliate links that we earn a small commission for,
they come at no extra cost to you!
Your Thoughts...
Please share your thoughts in the comments or reach out on social media...We would love to hear from you.
---
Ultimately, the right greenhouse for you is one that you will use for a long period of time – one which meets your demands and fits in with your lifestyle.
Once you're happy with your choice, read our guide on getting the most out of your new greenhouse. What works for some growers may not meet your requirements. More complex plans may be just up your alley, sometimes those plans can stifle success.
Grow smart, not hard! Gardening advocates advise that you start with a basic, greenhouse structure like a pop-up greenhouse so you can get the hang of your new plant responsibilities.
The full-size challenges of Backyard Greenhouse gardening await! If you're looking for more in-depth greenhouse reviews or comparisons, click here to check out the top reviews.