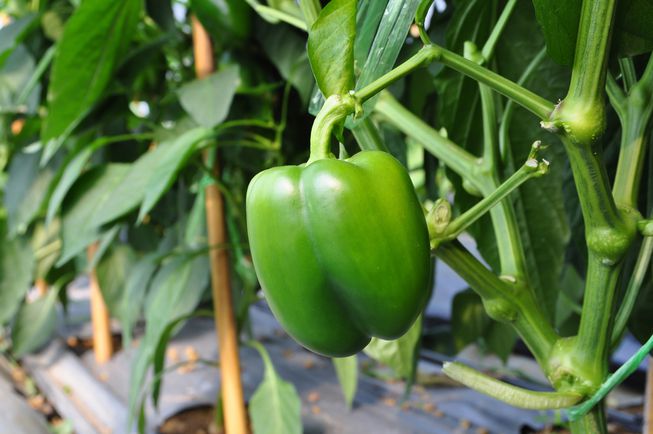 How to start a small vegetable garden, we have slowly started transforming our tiny backyard into a small vegetable garden. In our small growing space in have a greenhouse and two raised beds, plus a sunflower garden.
Quick and Easy Guide to Veggie Gardens
Starting a vegetable garden doesn't have to be as terrifying, or as expensive, as you may think.
This year, during the Pandemic, we have decided to add more vegetables and herbs into our home garden.
This post may contain affiliate links.
To which I earn a small commission, at zero cost to you!
Find more info in our
Privacy Policy
.
VEGETABLE GARDENING FOR BEGINNERS
What to grow in a vegetable garden for beginners
Knowing what you should grow in your backyard vegetable garden and when really depends on your Hardiness Zone. Here in Canada, you can find your zone on this website, we are part of the 5A zone.
According to the experts, there is a lot that we can start planting in March/April. In general, you want to plant after your last frost date. We had snow and hail in mid-April after weeks of warm weather so you will want to be careful about what you start outside and what you decided to start in the house or in your greenhouse.
Look up your Hardiness Zone and find a simple list of vegetables that are best suited for your area.
Where to Get Started?
Aside from the basic soil, water and sunlight, plants do need a little assistance in the growing department.
In nature, they move on the wind and take root where they are best suited to grow. Between you and me, I have no intention of throwing seeds in the wind and hoping something comes of my efforts.
How to Choose a Spot for Your Garden
Assess the location of your garden.
Knowing whether you have full sun or partial sun during the day will tell you which types of vegetables will so best in your garden. If you have a specific vegetable in mind, this will help you determine where on your property you need to place your garden.
Don't forget to consider the movement of the sun during the course of the day. Orient your garden from north to south to get maximum sun exposure; when plants are positioned from east to west they tend to shade each other too much.
Soil Content Super Charge
Sadly, most contractors will strip the good soil of your property and only replace enough to let the grass grow (and even then). If you plan on growing anything of value, you will need to bring in some outside soil.
This can be store-bought, created in your compost bin, or a mix of both. Your home compost bin should be free of meat, bones and fat.
Water Management and Access
It may seem obvious but consider your water needs and plan accordingly. Make sure you have a steady water source near enough to your garden. We have plenty of space in our front yard, but no water source without going through the house and hooking the hose in the back yard.
Run your water for a few minutes before watering the plants as the water left to sit in the hose can be especially hot in the summer months.
What to Plant: Ten Easy Veggies to Grow with Kids
While you plant your first vegetable garden, it may be a good idea to get the children involved. If anything, you are teaching them how to help you in the future.
Sunflower
Radishes
Tomatoes
Pumpkins
Strawberries
Microgreens
Beans
Peas
Herbs
Peppers
Summer Vacation?
Remember that tomatoes and zucchinis are growing in the middle of summer. If you're gone part of the summer, you need someone to look after the drops or they will suffer. Or, you could just plant cool-season crops such as lettuce and kale and root veggies.
Caring for Your Vegetable Garden
While vegetable gardens don't need more or less care than a flower garden, they are less forgiving of neglect.
Weeding
Vegetables don't like competing with nutrient-sucking weeds. Your garden bed needs to remain clear of pesky weeds, as does the surrounding area.
Feeding
If planting in the spring, your ground soil should contain plenty of fertilizer for overwintering. Spring crops generally don't flower so they will not need as many nutrients (ie. Radish).
If you're unsure of your specific garden fertilizer needs, you can't go wrong applying 10-10-10 fertilizer an "all-purpose complete fertilizer" or balanced fertilizer for plants.
Fertilizer 10-10-10 includes equal percentages of nitrogen (N), phosphorus (P), and potassium (K), the NPK of a particular mix of fertilizer. Always brush up on the requirements of your particular plant varieties and their fertilizer needs.
Summer crops, on the other hand, will need much more nutrients. To provide consistent nutrients for fruit-producing plants, add quick-release fertilizer to the soil every three to four weeks. Before planting the summer garden, work slow-release fertilizer into the soil.
Watering Regularly
Regular water is as important to growing vegetables as sunlight. This means an inch or two per week, every week, and more if it's extremely hot. Without regular water, vegetables will not fill out and some, like tomatoes, will crack open if suddenly plumped up with water after struggling without for awhile.
Harden Off Your Seedlings (Thinning)
Depending on how you start your garden, you will harden off your seedlings differently.
For us, we start our seedlings in the house when it is a little colder outside and let the children help maintain them. We have individual cells per seed and can then choose which cell to plant outside when it's time.
If you start your seedlings outside, you will want to remove excess seedlings from the garden. Remove seedlings so the remaining plants are at the recommended spacing distances. If you can't remove the extras without disturbing the roots of the seedling that will remain, simply pinch the seedlings at the soil line. Keep the strongest, stockiest seedlings.
Stalking
Tall and climbing vegetables require some sort of staking or trellising. It's best to install the stakes at planting time. If you wait until the plant has grown before staking, you run the risk of injuring the plant roots.
Keep the Pests Away
While bunnies and the neighbours' cats are adorable, they are not so great for a garden. If you do have a problem with animals getting into your garden, try blocking their entrance in your yard. This can be anything from blocking the hole in your fence, to reinforcing your shrub bush with a small fence while it grows thick.
On the off chance that you don't have a fence or little creatures insist on getting into your yard regardless, there is a quick but not so simple way of keeping them away. Adding a fence to your garden, to limit even your own kids or pets from playing in the garden bed, is a great way of keeping little hands or paws out of your precious garden.
So You Cannot Plant in the Ground?
As is true in life, there is more than one way to plant a garden.
Our current home doesn't advise we plant edibles in the ground itself as it has not been tested for that purpose. We have gone with a raised bed garden and brought in our own soil from the stores. We are fortunate to have the room to make such decisions.
There are homes and apartments that don't have the backyard space, or don't wish to use that much real estate for the purpose of gardening – kids tend to take up a lot of room, especially when school is closed. We present 3 solutions to gardening when space is limited.
Container Gardening
Solutions such as container garden are available and there are many DIY methods to get started.
These 19-litre pails go for roughly $3 each at Home Depot or Lowe's. They cost a hair more for plain white, as you are getting a discount in exchange for free advertising in your back yard all summer long.
As you can see from this build below, each pail has equal access to sunlight, and drainage and the system can be easily rolled out of the way when needed.
Stackable Vertical gardening
Similar to the buckets above, a vertical garden takes up far less space than a garden bed. The stackable planter is great for growing strawberries, herbs, succulents, flowers, and more in a small amount of space! The planter has water reservoirs on each layer so you won't need to worry about over-watering your plants.
Window Gardening
Even apartment buildings can get in on the gardening action. With window gardening, you will be limited to a handful of vegetables and herbs unless you are one of the lucky ones that have amazing sunlight throughout the day.
With window gardening, you will still need to make sure your windows are properly sealed as to not let in the cold winter air, or humid summer heat. Dramatic and sudden changes in temperature are not great for your plants.
Final Thoughts
At the end of the day, it's important to have fun. It is no use putting up a garden if tending to it will only cause stress and anxiety. Start a small garden with easy to grow, hard to kill, vegetables and enjoy the learning process.
Join us on Facebook for more tips and tricks on how to plant your first vegetable garden and more.